BoardClic, the leading digital platform for board performance reviews and CEO evaluations, has entered into a sales partnership with Board Intelligence, a market-leading board portal and AI-powered report-writing software provider. We sat down with BoardClic's founders, Monica and Malin, to dive into the problems BoardClic addresses and the ways technology is transforming governance.
Why did you set up BoardClic?
We founded BoardClic in 2018 with a vision to transform the world of corporate governance. With over four decades of experience in board advisory and top executive search, we wanted to change how board and CEO reviews are conducted. The traditional approach was manual and analogue, and we believed that technology could simplify and democratise this process, making it accessible to any organisation, regardless of its size or structure. Through BoardClic, our goal has been to enable sound corporate governance and increase stakeholder value.
What problem does BoardClic solve?
BoardClic addresses the traditionally manual and time-consuming process of board and CEO performance reviews. Our platform empowers organisations to track performance, alignment, and composition over time. In essence, we provide a digital, time-and-cost-effective alternative to conventional board reviews, allowing them to be done in hours rather than weeks.
"We provide a digital, time, and cost-effective alternative to conventional board reviews, allowing them to be done in hours rather than weeks."
What's its USP?
BoardClic's unique selling point is its capability to provide actionable insights and benchmarking capabilities derived from over 1,000 board reviews conducted on the platform, including feedback from more than 3,000 board members across 400 companies in 50 countries.
Our platform offers all necessary tools, benchmarks, best practices, peer data, and insights required for modern board work — all available 24/7. Plus, unlike traditional methods, BoardClic delivers a seamless digital experience that's accessible from any device.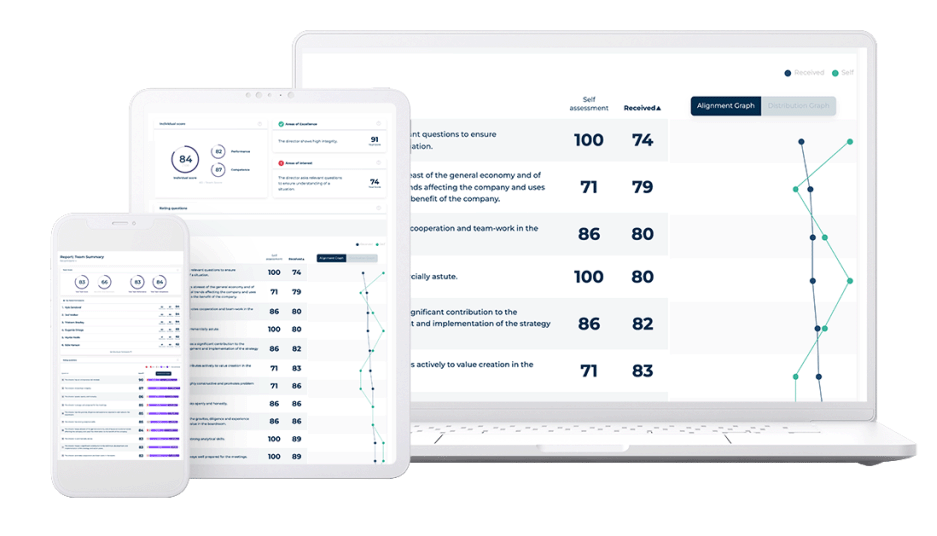 Easily conduct director peer reviews.
Who is the typical BoardClic customer?
Our typical customer ranges from listed companies, financial institutions, and NGOs, to private equity, venture capital, and family offices. Essentially, we serve regulated organisations and active owners. The users of our platform include chairs, boards of directors, and management teams of these businesses.
What does your current client base look like?
We have a diverse client base that spans various sectors and regions. It includes listed companies, financial institutions, NGOs, private equity firms, venture capital groups, and family offices across 50 countries. Some of our notable clients in the UK include Aston Martin, Persimmon, and HG Capital Trust, to name a few.
How do you think this will evolve?
As we continue to push boundaries and lead in our niche, we anticipate our client base to expand further, covering even more sectors and geographies. Our commitment to continuous improvement and innovation will undoubtedly attract more organisations looking to enhance their corporate governance through our technology.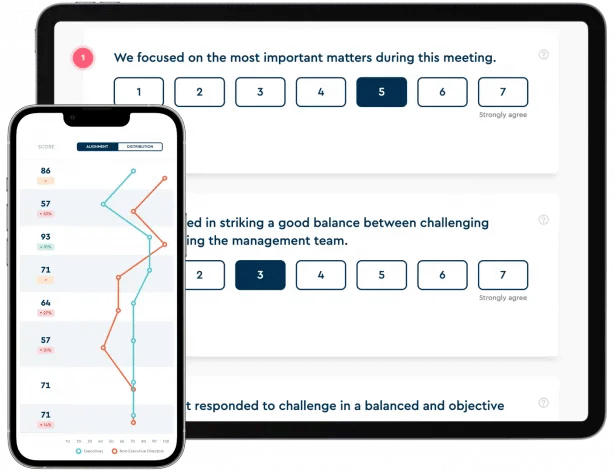 Collect real-time feedback after board or committee meetings.
How else do you think technology will change the governance landscape?
Technology will play a pivotal role in making governance more transparent, efficient, and adaptive. Platforms like BoardClic are just the beginning. We foresee more integration of AI, data analytics, and real-time feedback mechanisms to provide richer insights and facilitate faster decision-making in the boardroom.
"Technology will play a pivotal role in making governance more transparent, efficient, and adaptive."
What excites you most about the BoardClic / Board Intelligence partnership?
The partnership with Board Intelligence is a significant step forward in our journey. It signifies a union of shared values and ambitions between two female-founded technology firms. What excites us most is the potential to increase our reach and impact, combining our expertise with Board Intelligence's capabilities to jointly redefine the future of corporate governance.
Learn more about Board Intelligence and this new partnership at Board Intelligence's in-person event in London on September 26: Next-Gen Board Evaluations: transforming governance through technology.