Step 1: Rewrite Your Agenda
A recent study of over 100 portfolio company board members by Board Intelligence uncovered a disconnect between what portfolio company board members want to focus on in board meetings, and what they actually achieve.
Objective

versus

actual focus

of portfolio company board meetings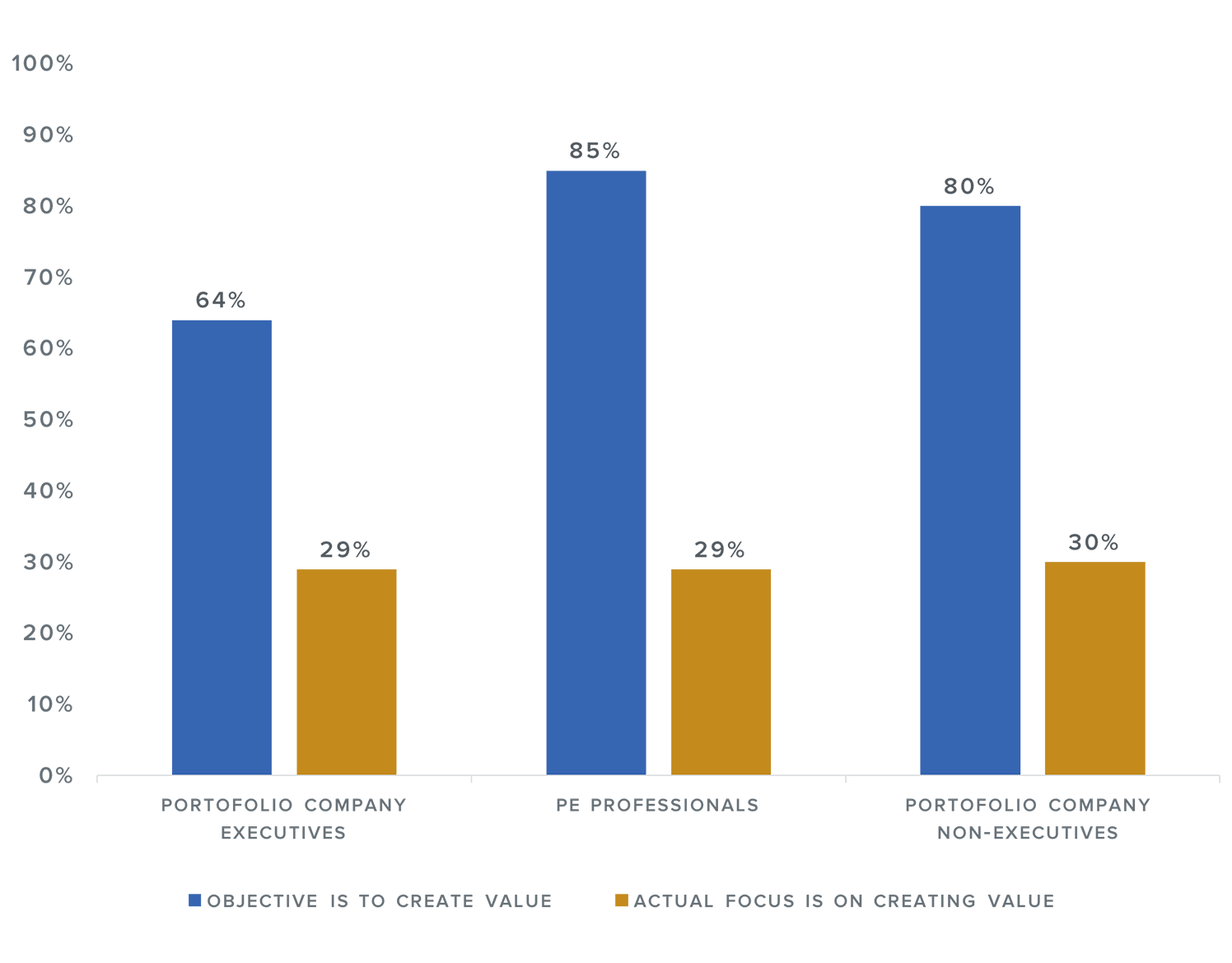 Source: Board Intelligence 2019 research.
Too many management teams endure, rather than enjoy, board meetings and portfolio company boards must do more to ensure board meetings add value for everyone involved.
What are you doing wrong?
Most of the research into meeting effectiveness (such as this 2009 study led by Desmond Leach at Leeds University Business School) cites, at some point, the importance of having an agenda and sticking to it, so let's start there.
Think about your experience. When did a board meeting last start with anything other than a tidal wave of performance data? And do you have a forward calendar for your board that looks more than a few months ahead?
Herein lies the problem. Agendas tend to be static and broadly the same from month to month. They typically start with the minutes, then there are performance updates. Squeezed in at the end — when people are already thinking about their next meeting, come the big decisions and difficult strategic conversations. At best, there's a hastily assembled report or monologue to frame the discussion. At worst, it comes as a surprise under "AOB". Either way, an unstructured conversation ensues. It's easy to see how this might not set the board up for a high-impact, value-enhancing discussion.
So what's the solution?
Balance the agenda so that no more than 25% of the board meeting is spent discussing past performance and board administration. Spend the rest of the meeting focused on 2 or 3 key value creation topics such as investment decisions, value creation initiatives, external developments, exit planning, and strategy.
And, to optimise that time:
Identify and agree the topics — as a board — in advance;
Give management clear guidance on the information that is required to shape the discussion (do you need a report, and if so what questions should it answer for the board?);
Make sure those topics are discussed first — while board members are energised and fully focused.
This sounds simple, but boards rarely do this. A recent poll conducted by Board Intelligence found that nearly half of private equity Operating Partners spent less than 25% of their most recent board meeting in genuinely value-enhancing strategic discussion — with the remainder of their time spent on board administration, detailed operational discussions, and so on.
With the average portfolio company board member spending 30 hours a year in board meetings, that's 15 hours per year, per board member, of value-enhancing discussion that's missing from the agenda. And just imagine what portfolio company boards could achieve if they used this time differently.
The next article in this series will look at the board's annual calendar and meeting cadence.
The 5 Steps to Board Meeting Enlightenment in PE-Backed Companies
In case you missed any of the steps in the series, you can find them here: