Good decision-making is under scrutiny
As expected, the last few weeks have seen the Financial Conduct Authority and the Prudential Regulation Authority announce a number of measures and guidelines designed to help financial services firms navigate the operational challenges caused by the COVID-19 pandemic. However, their joint statement addressing dual-regulated firms reminded UK subsidiaries that despite some easing of regulatory burdens, public trust in the individuals delivering critical financial services was now more important than ever.
Glass towers and suits may not evoke the same kind of trust and support that the now iconic cobalt uniforms of front-line healthcare workers inspire, but financial services organisations supply essential services that allow us to provide as best we can for ourselves and our loved ones. SMCR (Senior Managers & Certification Regime) was introduced in 2008 to address accountability and public trust issues following the 2008 financial crisis. So unlike other regulations that have been relaxed, SMCR has renewed importance and relevance during this crisis — particularly when it comes to demonstrating that good decisions were made for the benefit of society at large.
The role of subsidiaries in group decision-making has long been problematic. Many have to navigate complex group structures and information flows whilst managing tensions between local regulations and cross-regional expectations of the parent company. The recent need for businesses to make tough, urgent decisions has added more fuel to the already burning question for subsidiary and parent boards: Where does true decision-making power lie in a group structure?
Decision-making needn't be absolute
Many subsidiary boards feel that decision-making is out of their hands — that they serve purely to supervise rather than steer or shape the direction of the company. Now, as all areas of businesses face tough, urgent decisions, a group board acting as the sole decision-making forum for the whole organisation couldn't be more untenable.
In order for subsidiaries to reconcile the tensions with parent companies, it's important to recognise that — especially in times of unprecedented uncertainty — decision-making needn't be absolute. Rather, group organisations may find it helpful to approach decision-making on a spectrum of decreasing power: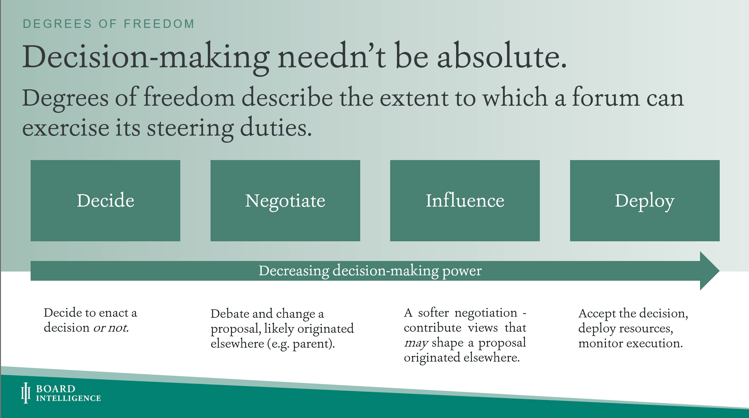 Decide — the forum can decide to enact a decision or not.
Negotiate — the forum can debate and challenge a proposal, likely originated elsewhere (from the parent for example).
Influence — the forum can contribute views that may shape a proposal originated elsewhere.
Deploy — the forum can accept a decision, deploys resources and monitors execution.
For a more detailed introduction to the Degrees of Freedom Framework, watch our webinar on SMCR and Subsidiary Governance.
Defining the remit of your decision-making power
The Degrees of Freedom Framework is powerful, in that it removes the need for binary behaviour and helps subsidiaries and entities describe and understand where and how they can assert themselves as part of decision-making processes. By recognising that the decision-making process can, to some degree, flex with the needs of the organisation, your subsidiary is empowered to engage with the most appropriate degree of freedom.
But how do you choose when to use each grade? By linking your decisions to your priorities.
Identifying the priorities of your subsidiary will allow you to recognise the most important issues that your board must grapple with. This is most often undertaken at the start of the year, with a forward view of what's to come — but it also makes sense to identify your priorities when you have been forced to adapt in new ways, as is the case now. Identifying your priorities as a board, will help you to redefine the purpose of your subsidiary, understand the issues that truly matter and align your board members towards a common objective.
Own your priorities, own your outcomes
Once you have identified the priority items that your subsidiary board needs to address, you are much better placed to understand the level of decision-making power required, in order to drive the business forward. When subsidiaries can identify their priorities, they can own their role in shaping outcomes.
Board Intelligence Agenda Planner can help your board set clear priorities and stay on track.